Figure Number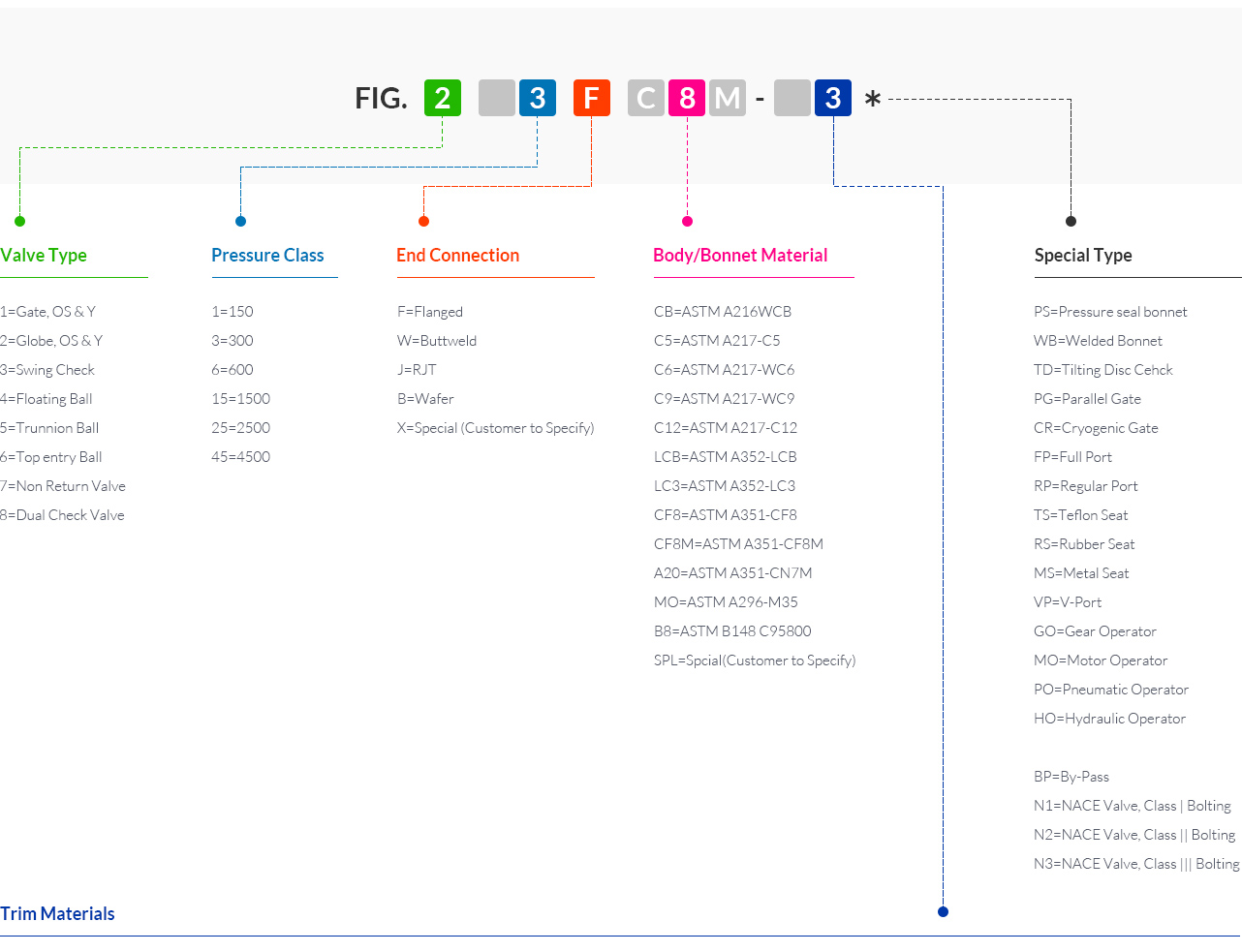 Trim Number
Nominaltrim
Seathardness(HB,Minimum)
MaterialType
Typical specification (Grade)
Cast
Forged
Welded
1
f6
b
13Cr
ASTM A217(CA15)
ASTM A182(F6a)
AWS A5.9 ER410
2
304
c
18-8 Cr-Ni
ASTM A351(CF8)
ASTM A182(F304)
AWS A5.9 ER308
3
F310
c
25-20 Cr-Ni
ASTM A182(F310)
AWS A5.13 ER310
4
Hard F6
750d
Hard 13 Cr
e
5
Hardfaced
350d
Co Cr-A
AWS A5.9 ERCoCr-A
6
Hardfaced
350d
Ni-Cr
7
F6 and
250f
13 Cr
ASTM A217(CA15)
ASTM A182(F6a)
AWS A5.9 ER410
8
Cu-Ni
175f
Cu-Ni
g
9
F6 and
300f
13 Cr
ASTM A217(CA15)
ASTM A182(F6a)
AWS A5.9 ER410
10
Hard F6
750f
Hard 13 Cr
e
11
F6 and
300f
13 Cr
ASTM A217(CA15)
ASTM A182(F6a)
AWS A5.9 ER410
12
Hardfaced
350f
Co Cr-A
AWS A5.13 ERCoCr-A
13
F6 and
300f
13 Cr
ASTM A217(CA15)
ASTM A182(F6a)
AWS A5.9 ER410
14
Hardfaced
350f
Ni-Cr
15
Monel
c
Ni-Cu alloy
Manufacture' s standard
16
316
c
18-8 Cr-Ni
ASTM A351(CF8M)
ASTM A182(F316)
AWS A5.9 ER316
17
Monel and
c
Ni-Cu alloy
Manufacture' s standard
18
Hardfaced
350f
Trim 5 or 5A
See Trim 5 or 5A
19
316 and
c
18-8 Cr-Ni
ASTM A351(CF8M)
ASTM A182(F316)
AWS A5.9 ER316
20
Hardfaced
350f
Trim 5 or 5A
See Trim 5 or 5A
21
Alloy 20
c
19-29 Cr-Ni
ASTM A351(CN7M)
ASTM B473
AWS A5.9 ER320
22
Alloy 20
c
19-29 Cr-Ni
ASTM A351(CN7M)
ASTM B473
AWS A5.9 ER320
23
and
24
Hardfaced
350f
Trim 5 or 5A
See Trim 5 or 5A
a) HB is Brinelll hardness number symbol per ASTM E10(formerly BHN)
b) Body and gate 250 HD minimum, with 50 HB minimum differential Between body and gate seats.
c) Manufacture' s standard hardness.
d) Differential hardness betwween body and gate seat surface not required.
e) Case hardness by nitriding to thickness of 0.005-inch(0.13 millimeters) minimum.
f) hardness differential between body and gate seals shall be the manufacture' s standard.
g) Manufacture' s standard, with 30 ni minimum.
h) This classification inciudes such trademarked materials as Stellite 6, Stoody 6, asd Wallex 6.
i) Manufacture' s standard hardfacing, with 25 percent Fe maximum.